Maritime security program
The Maritime Security Branch is an active member in the interdepartmental maritime security community. We're responsible for working with partners to develop and implement strategies which support national security priorities.
We support national security by:
enhancing awareness of possible maritime security threats
supporting on-water law enforcement and responsiveness using our:

fleet
on-water expertise
extensive vessel monitoring systems

collaborating with departments and agencies in the maritime security community
Collaboration and policy
We ensure Canadian maritime security by using a multi-agency approach. We use the capabilities and expertise of different partners in the sector to build upon our obligations and to address security priorities.
Our maritime security branch collaborates with partner agencies, such as the Interdepartmental Marine Security Working Group, to:
support the branch director
provide an interface between:

the Canadian Coast Guard
other federal departments and agencies

develop effective mitigation strategies
identify priorities and gaps in our maritime and national security
develop comprehensive interdepartmental maritime security documents
The branch is also responsible for:
providing maritime and national security support to:

the minister
the deputy minister
senior management

developing and implementing policies consistent with the federal government's priorities concerning:

national security
maritime security
Enforcement support
Our program support is achieved through cooperation between different departments, such as the:
RCMP
Conservation and Protection Program of Fisheries and Oceans Canada

this program uses fishery officers to enforce fishery violations
Maritime security enforcement teams
The Canadian Coast Guard and the RCMP work together to provide security enforcement on the Great Lakes and Gulf of St. Lawrence. Maritime security enforcement teams combine RCMP law enforcement powers with Canadian Coast Guard operational expertise. Teams are made up of RCMP officers working on mid-shore patrol vessels from the Canadian Coast Guard.
Conservation and Protection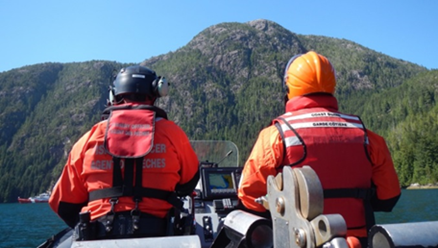 Canadian Coast Guard vessels also provide operational platforms for fishery officers on coastal and inland waterways. Uniformed fisheries officers work aboard these dedicated vessels to enforce fisheries violations.